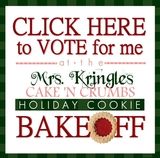 Feel free to check it out on Sarah's page (Her page looks much more festive)http://sarahharward.blogspot.com/2009/12/mrs-kringles-cake-ncrumbs-holiday.html

Because my sister, Sarah, and I are on the
VERY
VERY
NICE
list, we were able to get a copy of
Santa's
Favorite Cookie recipe to share with all of you.
Of

course,

we're

not

ashamed

to

ask

for

your

votes

in

return

!!
Click on the button at the top of this blog and be sure to vote (many, many, many times) for our cookie to win the Bake Off!! I'm sure it will earn you a spot on the very very nice list too!!!
6 cups of sweetened coconut flakes
1 can sweetened condensed milk
1 tsp vanilla
3 egg whites
Mix the coconut, condensed milk, and vanilla in a bowl. In a separate bowl, beat the three egg whites until stiff. Fold in the coconut mixture. Plop onto a baking sheet and bake at 350 for 10-12 minutes. Once they're done, let them cool on the baking sheet. When they're cooled, melt 1 bag of semi-sweet chocolate chips. Put a plop of chocolate on the bottom of each cookie, then smoosh onto cookie sheet to spread the chocolate out. Let chocolate cool and then ENJOY!!